Take a look at these items...new this Week!!
These pieces are AMAZING. The cute snowmen on the panel and the coordinating prints make these fabrics very special.
Attention Cat fans! Isn't this so cute for that next project!
The CATS are BACK!!! Remember this print from the winter months. We have received more.
And the Celebration fabric for Bernina's 125th Anniversary has arrived. The black and gold paisley is just stunning!
These 2 bolts are from Contempo. The Bernina "This is my Happy place", is a panel. The teal blue makes a great companion.

This collection is from Moda. Clover Hollow is a very pretty collection which unique colors.
This is Flourish from Moda. This collection has beautiful colors. That green is amazing.
New Batiks have arrived. How awesome are these colors??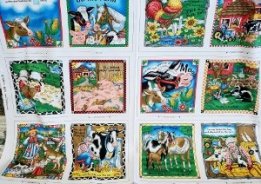 How cute is this panel? This makes into a fabric book for the little person in your life.
Check out these new fabrics from Stof Fabrics. Those elephants are just as cute as can be!
Embroidery FANS! We have new CD's in including Christmas designs.
This beautiful print is from Moda called Gradients
From Stof - comes these very cute prints to integrate into kids prints.
How fun is this dinosaur print?!?! And it Glows in the Dark. Pillow cases for your little one would be adorable done out of this.
From Quilting Treasures, this is Enchanted Floral.
New Route 66 has arrived for bags or your other projects.
Check out this sweet panel. Perfect for a baby quilt which you can complete in an afternoon. This one is from Quilting Treasures.
More from Moda - Grunge STARS! We have these colors as well as a couple of layer cakes.
From Contempo, Free Motion Fantasy. There are also some layer cakes in the store to match up with this one.
New Grunge has arrived from Moda!
From Wilmington, here is a cute hot chocolate print that would make very cute aprons for Christmas!
Quilters GOLD! With the 125th anniversary of Bernina, this Kit is available containing Bernina Fabrics

.
Come take a look at the new Featherweight table that is available!
These city gals are all about fun and flair! Biking in the park just got a lot more stylish!
This adorable baby collection has all the ingredients for a memorable baby quilt… tiny dots and baby elephants in shades of yellow, mint and soft lavender.
From Andover Fabrics
Something Blue
by Edyta Star of Laundry Basket Quilts
Click here for free downloadable pattern!
From Andover Fabrics
Dimples
Great Blenders!
From Timeless Treasures




Awaken




The colors are beautiful...




Panel with great coordinates

!






Check out these 3 bolts that arrived from Wilmington. Artic Wonderland has the best colors for making that unique quilt.
Hoffman sent us a number of bolts this week.They are a beautiful combination of Black and Gold, Gold and Gold and Zinc Gold. Even Christmas is arriving.
For the young people in your life that you sew for, a number of items have come in to help with that special project. This one is from Wilmington - called Detour Ahead.
This extra cute panel and coordinating print arrived from Clothworks -- it is called Jungle Fever.
Needing flannel to complete that special quilt for that new person in your life? This is the group for you. The soft grays, blues and pinks in this line is just what you need or that special project. This group is from P&B.
These 2 bolts for blender flannels arrived as well from Wilmington.They are just perfect for a wonderful backing.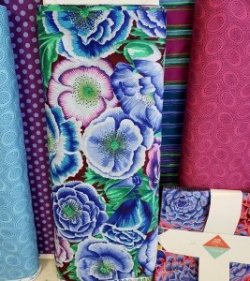 For all Kaffe Fassett fans - there are new prints in the store now. This includes layer cakes for this print.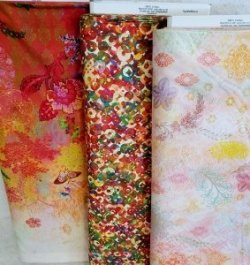 In from RJR - are these 3 bolts that the picture does not do justice too. These have the prettiest colors moving through yellow, salmon and into blue

.
These 2 bolts arrived from Wilmington Fabrics. Do these two not just shout summer!
There are a number of novelty prints that have arrived to add some uniqueness to your project.
These cute llamas would be great for knitting bags.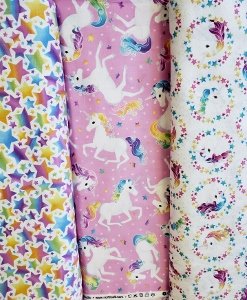 Is this not just the most adorable prints? These bolts are from Northcott. They are even better in person.







This group of 4 fabrics came to us from Benartex. If you have a cabin, how cute would this be to sew up something special? Or have a hunter in your life?




How cute is this panel in from Northcott. It is called a Stitch in Time.

In from Cotton and Steel are these two prints from Welsummer. What can you do with the egg print?






From RJR - comes these two prints called Floribunda. Purple and pink for the Summer!

From
Moda comes these 3 bolts from the Beach Road Collection.
Calling Batik fans -- this is a beautiful print. The figure is actually pumpkins!